Overview of the Sheffield repossession market
Along with other northern power houses such as Leeds, Liverpool and Manchester, Sheffield is enjoying a growing reputation in the UK's property sector as a Buy-to-Let hotspot. One of the main reasons behind the surge of investment in northern cities is due to many people being priced out of London and the surrounding areas over the last decade. However, here we will look at why Sheffield has had a proactive few years in the property industry, and why this looks set to continue in years to come regardless of the state of the property market in Southern England.
The latest Rightmove report shows that UK asking prices dropped by an average 2.1% this month. Yorkshire recorded a 2.5% fall with the latest average house price figure showing £214,036 (Oct 22). However, in more positive news for the region, asking price growth in the region is still up 7.3% over the past year.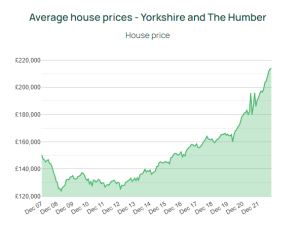 Repossessedhousesforsale.com expect demand to increase with the help of the recently announced nil-rate stamp duty for properties under £250,000.
Latest figures show number of people contacting estate agents is up four per cent on the same period in 2019, while the number of views of homes for sale on Rightmove is up 11% on last year.
Gov.uk shows that Sheffield recorded 45 mortgage repossessions in 2022. The latest Q4 (Oct-Dec) figures saw 10 mortgage repossessions which is flat when compared to the previous quarter. Looking back YOY, the number of repossessed properties rose by 43% vs Q4 2021.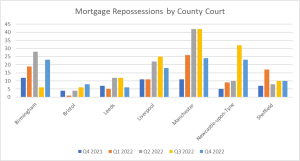 Rents are a different matter and Zoopla reports that low stock levels are driving prices up. They are increasing fastest in the largest UK cities with student populations, including Sheffield, where they went up 12.4% year-on-year and Leeds up by 11%. York and Hull recorded lower increases of 6.5%.
How to use Repossessedhousesforsale.com to find properties in Sheffield
Finding repossessed houses in Sheffield is extremely easy. Subscribers can simply search for Sheffield, or a specific area in Sheffield, and our platform will provide all the relevant repossessed properties.