Overview of the London repossession market
It is common knowledge that house repossessions in London can feature some of the best property deals the UK has to offer, often being purchased around 30% below market value. Considering average property prices in the capital are a staggering £541,720 (Property Data, Oct 2022), the opportunity to locate below market value repossessions in London enable our clients to enter the market with larger equity stakes in their asset from day one, establishing themselves within internally acclaimed capital growth location.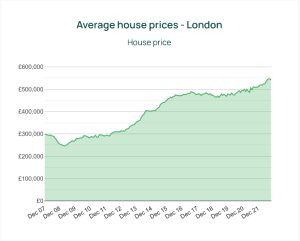 The latest gov.uk data shows that the continuous increase in property prices throughout 2022 come to a halt in October 2022 where we in fact saw a fall of 0.9% in the average house price in London. However, the capital still saw an average increase of 6.9% for the year.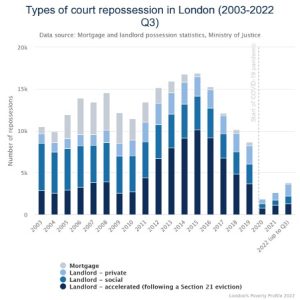 The number of repossessions in London rose this year, after evictions were paused in 2020 during the COVID-19 pandemic. The most recent gov.uk data which now spans the whole of 2022 shows that London recorded 295 mortgage repossessions across the year. Q4 (Oct-Dec) saw a 3% rise when compared to the previous quarter.
Comparing YOY against Q4 2021, London mortgage repossessions rose by 159% which could be a reflection of the current state of the economy with rising cost of living and inflation rates.
However, although most schemes introduced during the pandemic have ended, repossessions remain much lower than pre-pandemic years. Between 2015 and 2019, the total number of repossessions in London fell by more than 50%. This fall was primarily driven by the reduction in landlord accelerated repossessions – the route taken by private landlords to regain possession of a property after a Section 21 (a so-called "no fault") eviction. At the end of 2019, this type of repossession was just over a third of the level it was in 2015.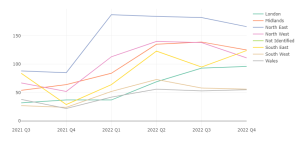 Repossessions for people with mortgages have almost disappeared in London over the past decade, falling from over 3,604 a year in 2009 to 381 in 2019. This was possibly caused by low interest rates.
Areas with the highest repossession rates in London
The graph below shows the highest repossession rates in London boroughs. We can see that Newham tops the list with just under 2.5 repossessed properties per 1,000 households. Other over-indexing boroughs include Lewisham, Barking and Dagenham, Greenwich and Brent.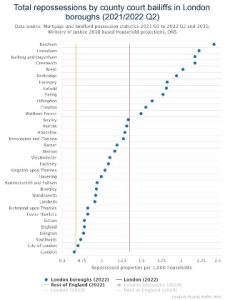 How to use Repossessedhousesforsale.com to find properties in London
Finding Repossessed houses in London is extremely easy. Subscribers can simply search for London, or a specific area in London, and our platform will provide all the relevant repossessed properties.