Rental Market Overview
The distinct lack of new homes being produced and a supply shortage of existing homes up for sale has been a contributing factor to the rental boom in Glasgow. The Royal Institution of Chartered Surveyors predicts that rents could rise by a staggering 15% by 2023. This definitive lack of new instructions is being continually pressured by incredibly strong tenant demand. Glasgow's tenant pool suits various investment strategies and assures minimal void periods, with young professionals, new families and a growing student population consistently demanding rental properties. Glasgow has an estimated full time student population of 80,000, with three major universities in the city that routinely invest into the cities world class infrastructure and regeneration.  Student housing in the form of HMOs have been a large success story for many repossessed houses investors, attaining higher and more reliable yields that traditional tenants.
At repossessedhousesforsale.com we grant you the opportunity to enter the market below market value with a repossessed property and assist you to secure such reliable and growing rental incomes (as seen below).
Rental value per square foot (£)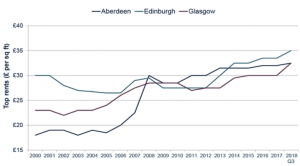 Glasgow is catching up in rental value per square foot to its popular counterpart Edinburgh. According to Barclays these two cities are the fastest places to sell a home in the UK, being two months quicker than popular Southern cities such as London and Brighton.
Housing Market Overview
As of December 2020, the average house price in Glasgow is around £193,000 (almost a 5% increase from December 2019). From our own experience and that of active estate agents in Glasgow, the market is busier than ever with properties selling extremely fast. Whilst central Glasgow is performing exceptionally, Glasgow's suburban areas are expected to see the largest amount of growth moving forward in to 2021. This is in part due to homebuyers changing attitudes to city living, drawing them towards the affordability, larger properties and access to nearby green spaces that more suburban life can offer. For repossessed property investors this change in preference is a massive opportunity, with many repossessions traditionally being sourced on the fringes of cities.
A third of Scotlands total population live in and around Glasgow, making it an extremely attractive city for both domestic and international investors. Glasgow has the largest economy in Scotland too and the fourth largest economy in the UK, being worth almost £27 billion a year according to the Centre for Cities. Glasgow's regeneration story from heavy industry to a city based on education, health, financial and business services is far from over. There is no better time to Invest in repossessed properties in Glasgow, subscribe to repoessessedhousesforsale.com to search for you next investment opportunity in Glasgow.