Overview of the Birmingham repossession market
Birmingham offers incredible property investment opportunities with affordability, high potential capital growth, strong yields compared to other regional investment hotspots and consistent tenant demand. Known as the UK's second capital, Birmingham attracts billions in investment into citywide retail, commercial and residential space a well a significant infrastructure projects. Birmingham is on a promising path to a prosperous future and is a key location to bolster any investors portfolio.
House prices have risen across the West Midlands by almost 10 per cent in 2022, according to analysis from Halifax.
Birmingham recorded the strongest house price inflation of areas in the West Midlands region in 2022. Over the past year, house prices in the city have grown by 13.8 per cent or £32,563 on average in cash terms.
It means average property values there have risen to £269,385, in the 12 months to November 2022.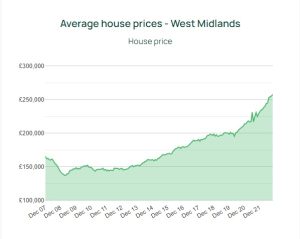 West Midlands is in better health than other areas of the UK, bettered only by East Anglia. House prices in the last quarter have increased at a higher rate than the UK average (+27%) and even more when compared to London (+49%).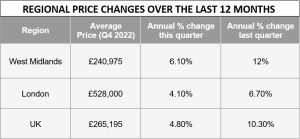 The latest Gov.uk figures show that the West Midlands reported 216 repossessions in Q1-Q3 2022 (Jan-Sept), accounting for 10% of all repossessed properties in the UK.
Birmingham reported 50 repossessions between January-September in 2022, which makes up 23% of all repossessed properties in the West Midlands.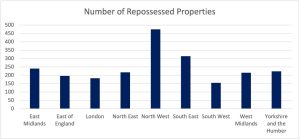 How to use Repossessedhousesforsale.com to find properties in Birmingham
Finding Repossessed houses in Birmingham is extremely easy. Subscribers can simply search for Birmingham, or a specific area in Birmingham, and our platform will provide all the relevant repossessed properties.